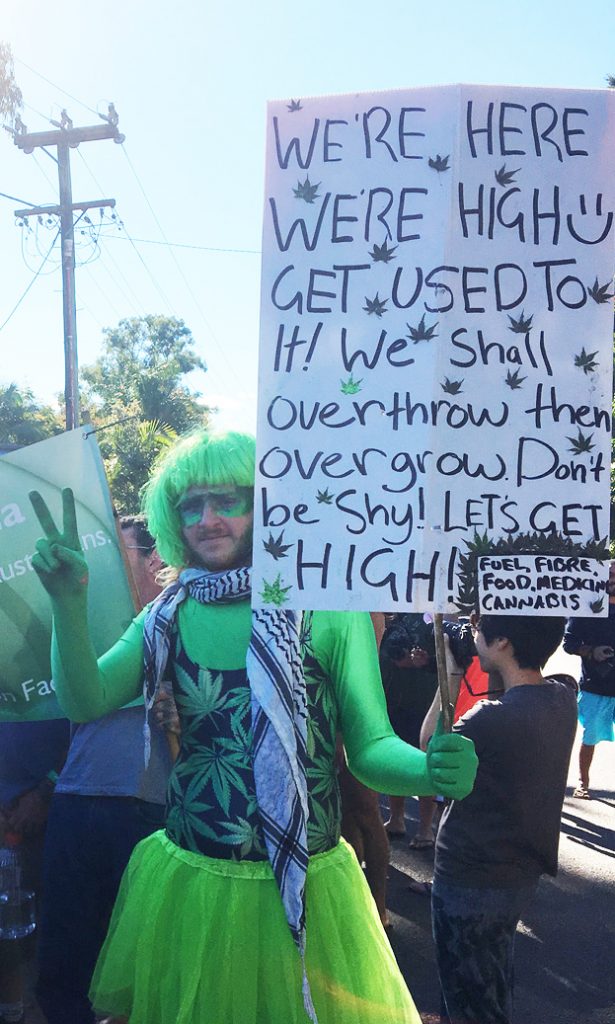 Nimbin MardiGrass, not to be confused with Sydney Mardi Gras, is a colourful protest calling for law reform of our state's antiquated marijuana laws.
The parade is smaller than Sydney Mardi Gras of course, but just as provocative, sassy – and at times downright sexy.
Here are some shots of the 2017 parade, which you just missed :(, and while the 2018 dates have yet to be announced it will be sometime in early May.
Revelwood is well suited for taking in a day of MardiGrass as well while still giving you the option of spending some time at the beach.
Apart from the ever-popular Kings Beach, there are a heap of other activities happening around the north coast at this time of year.
Here are heaps more events coming up soon.
Byron Bay Triathlon, Saturday May 13 – hot, fit dudes wearing very little, running, swimming and cycling. What's not to like?
Bangalow Billy Cart Derby, Sunday May 21 – thrills and spills in the Bangalow main street.
Byron Bay Fine Food & Beverage Festival, Saturday June 3 – eat, drink & be merry.
Tropical Fruits' Hard Queens Birthday Bash, Saturday June 10, Jiggi Hall. Join the Tropical Fruits crew celebrating their 30th birthday in a little country hall (just like the old days).
Splendour in the Grass, from Friday July 21 – although sold out, tickets may still be available through the resale facility.
Byron Writers Festival, from Friday August 4 – meet great Australian and overseas writers in a sublime location just metres from the beach.
Bangalow BBQ & Bluegrass Festival, August 11-12 – both kinds of music: country and western. Plus fabulous BBQ flavours. What's not to like?
Bangalow Music Festival, August 18-20 – a must for classical music buffs, this nine-concert event by Southern Cross Soloists sells out every year.
Sample Food Festival, Saturday September 2 – at Bangalow Showgrounds. Even closer to home than its Byron Bay counterpart, so less distance to travel on a full stomach J
Nimbin Roots Festival, September 15-17 – bills itself as 'three days of roots music, peace love and art in Australia's counter-culture capital.'
Byron Bay Film Festival, October 6-15 – now in its 10th year, this acclaimed regional film festival has moved to October to take advantage of the Labor Day weekend. Why don't you too?
Mullum Music Festival, November 16-19 – one of the great small town festivals in Australia. Some of the best up & coming acts you're likely to see together on one bill anywhere.