Need Directions?
How to get to Revelwood Rainforest Retreat, location and directions.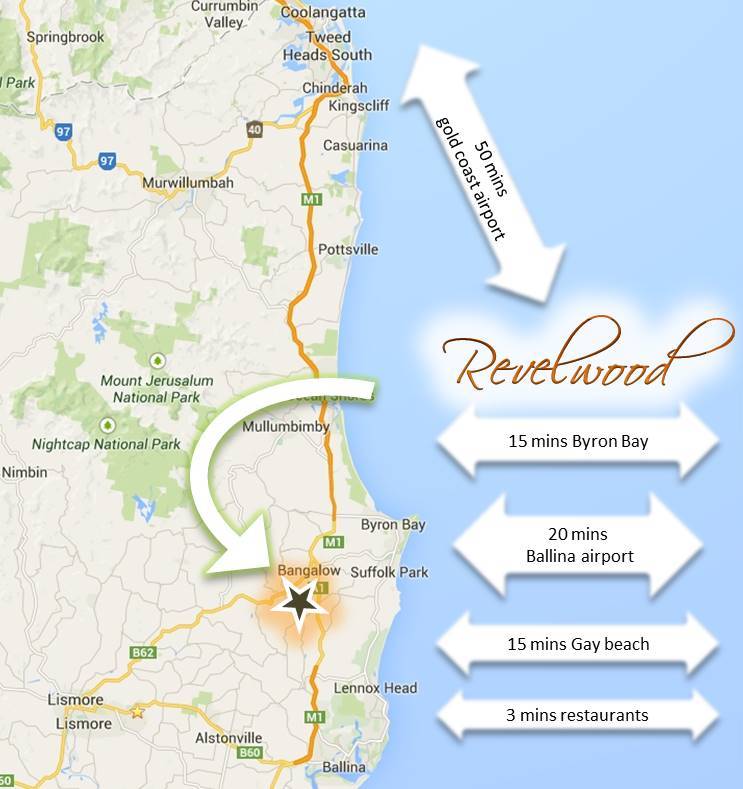 Fly and drive to Revelwood Rainforest Retreat
Discount airlines Virgin and Jetstar both fly to Gold Coast and Ballina airports. Fares are very competitive, especially outside of school holidays. If you are flying, a rental car is by far the most popular and easiest way to reach us. Details of car rental operators can be found on the airport websites.
Beware! There are some unscrupulous no-name rental companies offering dodgy deals on their websites. We have heard tales of car park assignations, people discovering their car is 10 years old or more, and cases where the "optional" insurance cost more than the car hire. We have used Ned Kellys Car Rentals and were happy with their price and service. They are located directly outside the airport but offer a pick-up on request. No, we don't receive a commission from them!
Strictly no drop-ins or day visitors
Access to Revelwood is restricted to B&B guests only. People arriving unannounced will be turned away.
We accept group bookings for day fees (10+) by prior arrangement. While we do not offer individual day passes, on occasion we do have public events – like our Facebook page to receive invitations.
Apart from the above, Friends of guests may be permitted by prior arrangement.
All people entering Revelwood must show photo ID and proof of age – no exceptions!
Driving times
5 minutes to the shops, cafes and restaurants of historic Bangalow
15 minutes to Kings Beach, Australia's most beautiful gay/nude beach
15-20 minutes to Byron Bay, Ballina Airport and Tyagarah Tea Tree Lakes
25 minutes to Lismore and Tropical Fruits dance parties
50 minutes to Gold Coast Airport.
Less than 2 hours to Brisbane CBD
About 8 hours to Sydney